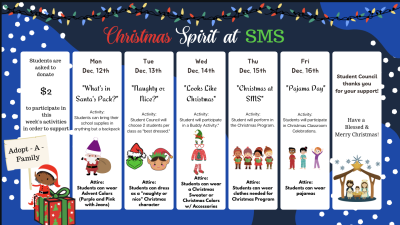 Student Council Presents:
Christmas Spirit in SMS
Students are asked to donate $2 to participate in these activities to support the Adopt-A-Family Foundation.
Monday, 12/12: Students may dress in Advent colors (purple and pink) with any pants.
Tuesday, 12/13: Students can dress up as a "naughty or nice" Christmas character.
Wednesday, 12/14: Students may dress up in Christmas clothing or accessories.
Thursday, 12/15: Students can dress up in costumes for the Christmas program.
Friday, 12/16: Students may wear their pajamas.