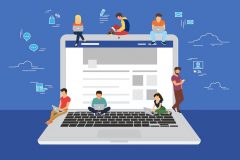 As a result of the revised statewide "Safer at Home" order to stop the spread of COVID-19, distance learning will continue as the main form of instruction. Families will be updated periodically regarding new protocols and modifications to our learning plan.  
We are preparing new protocols and modifications to our campus environment so that when the safer at home orders are lifted, we will be ready to welcome back our students in person.
We are committed to providing each student with an excellent education – regardless if in person or remotely – this is why we will continue to invest in our digital curriculum and keep our families engaged, connected, and learning together.
We recommend you visit this page or the SMS Distance Learning website, continue to check your email, SchoolSpeak, and your class's learning management system: Seesaw, Google Classroom, and/or Class Dojo for new information. Below is the latest letter from Mr. Paul Escala, Superintendent of Catholic Schools and School Industry Guidance from the California Department of Public Health.
In-person hybrid learning has resumed for grades TK and 2nd-8th grade. Kinder and 1st grades in-person hybrid will begin Monday, April 26, 2021. Each class is currently divided into two cohorts based on family survey responses – Cohort 1 meets Mondays and Tuesdays, and Cohort 2 meets Thursdays and Fridays. TK cohort meets all five days of the week.
Resources

School Speak is a simple integrated all-in-one solution for our school community to communicate. It manages student enrollment, attendance, grades, assignments, tracks student conduct, creates report cards and allows students and parents to receive a consolidated view of student performance data and analysis. Furthermore, it facilitates digital communication with students and parents.

Class Dojo connects teachers with students and parents to build amazing classroom communities. Teachers can encourage students for any skill or value. Students can showcase and share their learning by adding photos and videos to their own portfolios. And parents are engaged with real-time sharing of photos, videos, and school news while having the opportunity to connect in private with teachers!

Zoom helps us all stay connected and productive in a remote work environment. It allows us to virtually host conferences, webinars, and training sessions with our teachers, students, and parents. We are able to expand traditional classrooms with video communications, utilize resources and hardware families already have to expand learning and academic offerings, and increase student participation and learning retention with virtual and hybrid classrooms.

G Suite for Education is a suite of tools designed to empower educators and students as they learn and innovate together. Teachers can create opportunities for learning, streamline administrative tasks, and challenge students to think critically – all without disrupting current workflows. Students can work online or offline, anytime, and on any device with G Suite for Education. Often, teachers use these tools to encourage collaboration, creativity, and for one-on-one or whole-class instruction.